As promised in the last post here I am with an Easy and Nutritious Long Beans Recipe. Its a very easy to do raw vegetable salad and you can eat it as a side dish or just by itself as a snack. Vegetables loose their nutrition with time and because of cooking. To get maximum nutrition from vegetables you should have it fresh and raw. But vegetables bought from store are typically a few days old and are grown using inorganic fertilizers and pesticides. So not only its low in nutritional value, it is also not advisable to eat them raw. It is indeed harmful for you. Hence if you want to make this Easy and Nutritious Long bean recipe then I highly recommend you to grow your own long beans in your own Organic Terrace Garden. Growing Long beans in Containers is super easy and time to harvest is also very low (40-45 days). Hence there is no excuse why you should not be growing them by yourself. And the most important factor why you should use organically grown long beans from your garden for this recipe is that they taste much better and sweeter and have a great texture.
Long Beans Salad Recipe
Back to the recipe now. This is a Canadian inspired recipe and uses sweet nectar of Canada, the maple syrup. However if you don't have pure maple syrup you can substitute it with honey. This Easy and Nutritious Long Beans Recipe serves two as a snack. As a side dish it can serve three to four persons.You'll take only 10 minutes to make this and this is what you need for the lip smacking salad.
Ingredients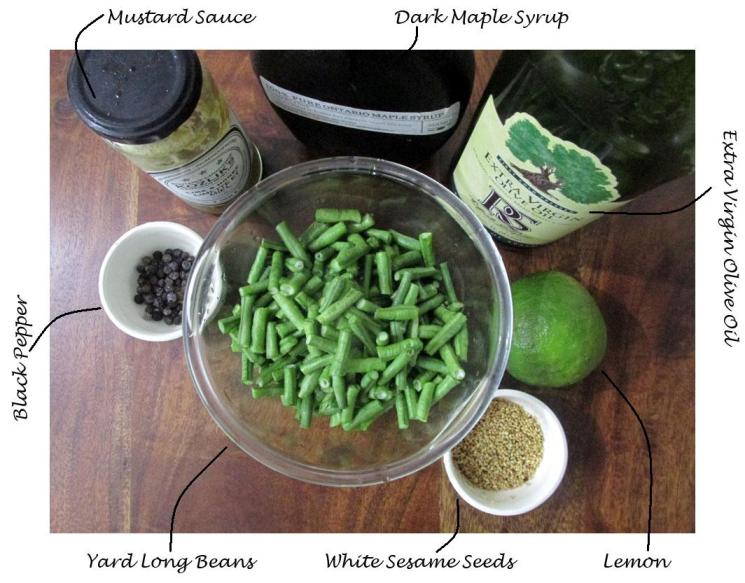 Fresh Yard Long Beans from your Organic Terrace Garden – 250 gms
Sesame seeds – 1 tablespoon
Olive Oil – 2 tablespoon
Kozlik's Canadian Mustard (spicy) – 1 tablespoon
Pure Dark Maple syrup – 1 tablespoon
Lime or Lemon juice – 1 tablespoon
Black pepper (coarsely crushed) – 1 teaspoon
Salt – to taste
Method
Wash long beans thoroughly and cut off the ends. Cut into 1 inch size pieces and pat dry.
Roast sesame seeds on a pan for 2-3 minutes till they become slightly brown and leave them to cool.
In a bowl whisk together Olive Oil, Mustard, Maple syrup, Lime juice and Black pepper till you have a good emulsion.
In a salad bowl mix together the Beans, Sesame seeds and the Dressing.
Add salt to taste and mix till the beans are coated well with the dressing.
And there you have it. This easy and Nutritious Long beans recipe is ready.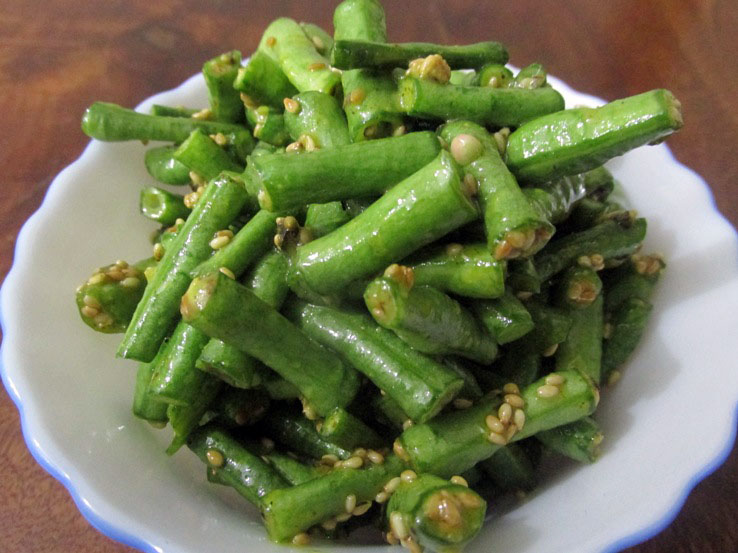 The best part of this recipe is that you really don't have to stick to the measurements religiously. You can alter the quantities according to your liking. And if you don't have Kozlik's mustard you can always substitute it with any mustard sauce which has heat. The hero of this recipe is organically grown fresh yard long beans and you can enjoy these at any time of the day in just ten minutes.
Bon Appetit