I recently attended national seminar on climate change where I got to see a lot of data on the changes in temperature and the effects it is having on our environment. Not that I was not aware of it. We all are aware of the change in climate and its effects. But when something is presented in the form of well researched data it does say a lot and has much more impact. Our planet is indeed getting hotter at an alarming rate. Last year Titlagarh in my home state recorded 47.5 degree Celsius and the predictions are that this year even this record will be broken. Everyone is suffering from this extreme heat. Even the plants in your garden are suffering albeit silently. And then there is also the problem of water shortage in summers which makes the whole scenario even more complicated. But of course you can do a few things to take care of your garden in summer. And this post on How to Protect your Plants in Summer will guide you on that.
Water Management is the Key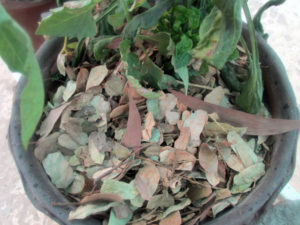 Water requirement of plants goes up as the heat increases. But the water availability decreases in summer. So managing water is key to a successful garden during harsh summers. Here are some tips for water management to protect your plants in summer.
Mulching – The importance of mulching can never be stressed upon enough. Mulch your pots heavily with organic material to reduce water evaporation from soil. Dry leaves, cleaned and dried sugarcane bagasse, grasp clippings, paddy  straw, wood chips, coconut husks and dried corn peels are some of the things that you can use as mulch. Make sure that the mulch is 2-3 inches thick, so that no part of the soil is directly exposed to sunlight.
Water as much as necessary to moisten the soil in your pot. Keep your soil moist and not drenched. Don't let water run off from pots. It not only wastes water, nutrients from the soil also get leached due to over watering.
Water only to replenish. Do not water just because it is time to water. You can check the moisture in the soil by poking a finger into it. If you feel its moist, there is no need to water.
If you see drooping leaves don't water your plants immediately. Check the moisture in the soil and water if needed. Leaves dry out fast in summers. The rate at which the root system pumps water into the leaves can not keep up with the drying rate. But when the sun goes down the leaves come back to shape.
Do not water during the day. It leads to faster evaporation. Water early in the morning and/or in the evening before it gets dark.
Do not waste water in watering the leaves of your plants. In fact watering the leaves is not advisable in any season because it can lead to fungus on leaves.
Water your plants evenly in the container. Watering from one side does not wet the soil from everywhere.
Drip irrigation systems work very well to save water. If budget is not a constraint you can invest in a drip irrigation system for your garden. Saving water is a big step to protect your plants in summer.
If budget is not a concern you can also consider investing in self watering containers. These containers store excess water at the bottom and water is pulled into the soil through capillary action.
Manage Shade to Protect your Plants in Summer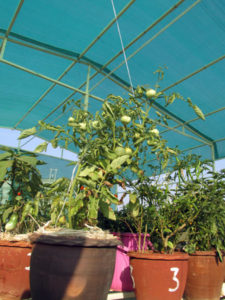 Tropical plants do well in hot and humid conditions, but in scorching heat even they can be heat stressed and eventually die. Excess watering does not help in such cases. Shade is what plants need in such cases. Here are some tips to manage shade to protect your plants in summer.
Find the more shaded areas of your organic terrace garden and move your pots to such a place. This can help a lot of your plants survive the summer.
Use shade cloth or shade net to protect your plants from direct sunlight. Greenhouse shade cloth is a net like cloth that lets partial sunlight pass through it. Shade nets are graded according to the amount of sunlight it blocks. You can chose somewhere between 50% to 80% shade cloth depending the temperature in your area. Since the temperature in this part of the world goes beyond 40 degree Celsius in summers we use 80% sun block shade net for our garden.
You can choose build a shade house by putting up a structure of steel or bamboo. This involves some expenditure, but its a good long term solution to have. In case you do not plan to spend a lot of money putting up a shade house here is a simpler solution. Put 4 to 5 stakes in your pots along the rim. The stakes should be a little taller than (2-3 inches works fine) the plant in the container. Now you can place your pots in a row and cover the entire row with shade cloth. The shade cloth will rest on the stakes and protect your plants from heat. You can also cut the shade clothes and put it up individually for each plant.
If you have few plants then you can dry your everyday clothes around it. Just make sure that the clothes are aligned in a north south direction, so that it provides shade to the plants. The shade of the clothes will be a relief for your plants.
Wind Management is Important too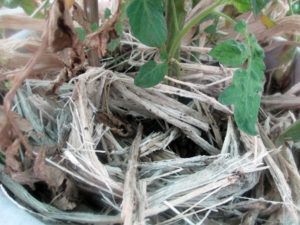 Wind can dry out soil too fast. Heavy warm winds during summer time also can damage  your plants. This is what you can do as a precaution.
Build a simple wind break with a shade cloth screen using either steel rod or bamboo. There is no need to do this on all sides of your terrace garden. Generally in summers there is a particular direction from which the wind blows. For your area identify that direction and put a wind screen on that side.
Bigger and sturdier plants also can act as a wind break. Place the bigger plants on your terrace on the side where you expect to get maximum wind flow.
You can also grow creepers and climber on flat trellises. Such plants also act as a wind break.
Choose your Plants well for Summers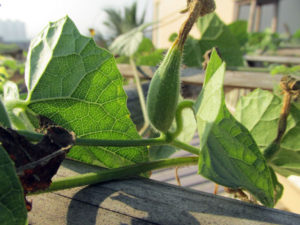 There are some plants that don't do too well in heat. No matter how well you take care of them, they eventually will succumb to the heat. So it a good idea to plant seasonal and heat tolerant plants in summer. Some examples are,
Banana
Ridge Gourd
Okra
Bitter gourd
Variety of Cucumbers
Pointed gourd
Variety of Eggplant
Chilies
Water melon
Amaranth
A few varieties of beans, peppers and tomatoes can also be grown in shade house in summers. But you have to be very careful with these varieties. They may not have as good yield.
The seminar on climate change that I attended had a very clear and strong message. As the planet is getting hotter and drier it becomes our responsibility to conserve water and resort to natural cooling methods. Hence installing coolers and fans is your garden is not something we are going to encourage you to do. And no amount of importance that you give to reuse and conservation of water can ever be enough. So we urge you to take a conscious steps towards a cooler and greener planet through organic terrace gardening this summer.