This winter has been a bad phase for our garden. Almost 70% of our produce has either been eaten away or destroyed by monkeys. Only root vegetables like radish, carrots, turnips etc have been spared by the monkeys. All kind of beans have been eaten away. In some cases the young leaves too have been eaten in all types of bean plants not allowing them even to grow. Cabbage heads have been half eaten and then left. Tomatoes, Eggplants have not only been eaten , they have also been plucked and thrown around in the garden. Monkey attacks have become very frequent now and it has been a very exasperating experience dealing with them. The other bigger problem that has happened because of this is that we have not been able to save tomato seeds for next season. I never really thought of seed saving to be significant enough to write about. But now that we are are not going to have tomato seeds for next year, it has become a big concern and hence I thought of making a post on How to save Tomato seeds.
How to Save Tomato Seeds
One can probably save Tomato seeds by normal cleaning and drying process. But the method I am going to share is more reliable, though it takes slightly more effort. This is the way I have been saving my Tomato seeds year after year and it has worked perfectly every time. By the way you should save seeds of heirloom (desi) tomato varieties only. Hybrid seeds when planted again will not give you the same kind of harvest both quantitatively and qualitatively. So here goes a step by step guide on How to save Tomato seeds.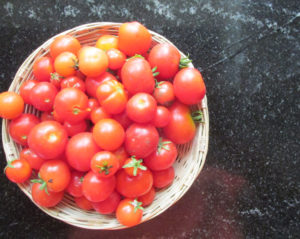 Step 1 : Collecting Tomatoes – You have to save the seeds separately for every variety. Let two to three healthy tomatoes of each variety ripen properly on a healthy plant; preferably from the first batch of your produce. Collect these tomatoes from 3-4 such plants. Collecting from multiple plants of the same variety helps maintain a better genetic pool.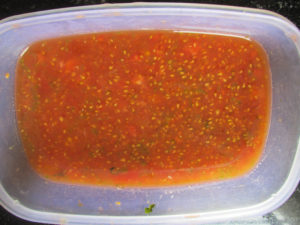 Step 2 : Collect the Pulp – Clean the tomatoes properly and cut them in half. Then with the help of a spoon take out the pulp along with the seeds and place them in a container. A transparent container is preferable. Make sure to clean your hands properly with a disinfectant before handling the tomatoes.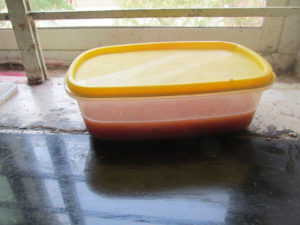 Step 3 : Ferment the Pulp – Tomato seeds have a gel like coating around them which prevents them from germinating. To remove this gel coating naturally without damaging the seeds they need to be fermented. Cover the pulp you have collected and leave it for a 2-3 days. Do not add any water to the pulp else proper fermentation may not happen. After every 24 hours  check if a white coating has formed on the pulp. This is mold and its better to avoid its formation. So stir the liquid to disperse the mold.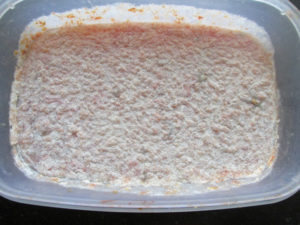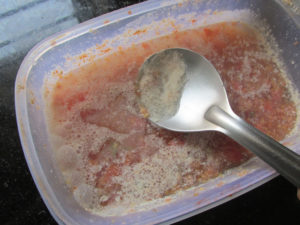 Step 4 : Separate the Seeds – When the liquid is well fermented you can see the seeds collected at the bottom. A transparent container helps to see the seeds. But you can always use a non transparent container if you like, but you'll miss a good opportunity to see the wonder of nature :). Now spoon out the liquid from top till you have mostly seeds in your container.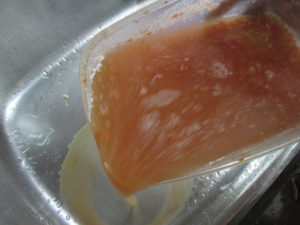 Step 5 : Clean the Seeds – Add enough water to the seeds using a jet spray so that the seeds get a good shake inside the water. If you are not using a jet spray, close the container and give it a shake. Wait for the seeds to settle at the bottom  and the drain the water. Repeat this process till the seeds are properly cleaned. Let go off the seeds that float in the water. These are not good seeds. Only those seeds which sink to the bottom need to be saved.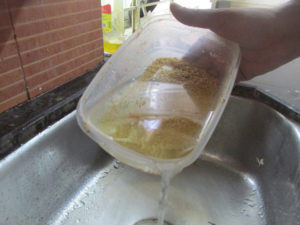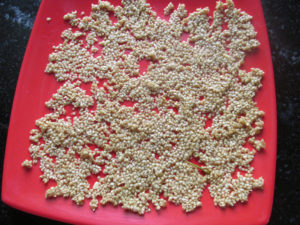 Step 6 : Dry the Seeds – After you have drained the water, strain the seeds using a sieve and spread the seeds well on a flat surface (you can use a plate from your kitchen) and then put them under a fan to dry the excess water quickly. When the excess water has dried out leave the seeds in a well ventilated shaded place to dry. Do not place the seeds in direct sunlight else they will become dormant. Give the seeds a gentle crumple with your fingers once in a while to dry the moisture trapped below them and avoid them sticking to each other. Dry them well so that any trace of moisture is gone from them. It may take up to 10 days for the seeds to dry properly.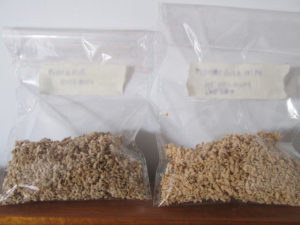 Step 7 : Label and Store – Now its time to pack and label your tomato seeds. I use small zip lock poly bags to store the seeds as they are air tight and inexpensive. The poly bag is labelled before transferring the seeds into it. Now comes the most important part of saving your tomato seeds; storage. Choose a good cool, dark and dry place to store the seeds. Some people put their seeds in the refrigerator. I have never tried that. For me storing in a cool, dark and dry place has always worked. You may experiment with the refrigerator, but do not freeze your seeds.
Nature's Way of Saving Seeds
I am disappointed with the monkey situation this year and will not be able to save Tomato seeds for next year. But there is still hope. Hopefully my saved seeds from last year would still be okay for the next year. But the biggest hope that I have rests on mother nature.
Some tomatoes become ripe and fall off from the plant and on the soil. With time the tomato decomposes, but the seeds get stored safely in the soil. The following year when the weather is right again the seeds sprout and we have tomato plants growing everywhere in the garden on their own. Hopefully this year too the plants have managed to save some seeds on their own despite the monkey attacks. But I'll know this only next year when tomato season arrives again. Till then I have my work cut out. The monkeys need to be taken care of.