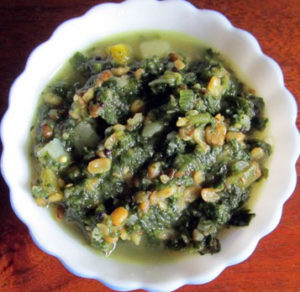 In a post earlier on how to grow pumpkin in containers I had mentioned that all parts of a pumpkin plant are edible. A lot of people actually were surprised to hear that. Which naturally meant that many people have never tasted a pumpkin leaf stew before. Which obviously meant that I had to make this post on Pumpkin Leaf Stew Recipe.  This is my mother's recipe and hence is a great comfort food; simple, nutritious, delicious all at the same time. We generally have it with steamed rice or rotis. But add a little more water, you can enjoy it even as a soup.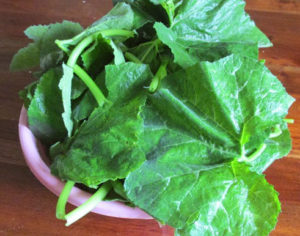 Pumpkin Leaf Stew Recipe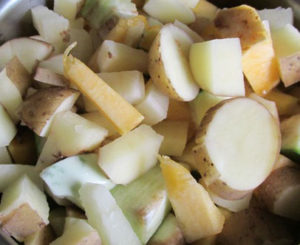 As the main ingredient here is the pumpkin leaf you have to make sure that you have grown the plant yourself organically. Commercially grown pumpkin plants are generally sprayed with poisonous pesticides and hence its leaves are not at all safe to consume. In case you do not have a pumpkin plant in your garden, just borrow a few leaves and young stems from your friends garden. And in exchange treat her with this delicious stew.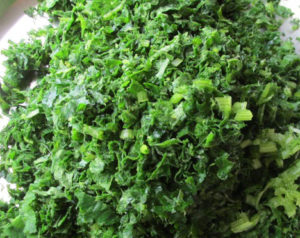 Ingredients
Young pumpkin leaves and stems washed and chopped coarsely – 15 to 20 leaves plucked with its stem
Potatoes cleaned and cut into bite size pieces – 2 medium sized
Eggplant cleaned and cut into bite size pieces – 2 medium sized
Pumpkin cleaned and cut into small pieces- 100 grams
Moong Dal washed and soaked for over an hour – 1 cup
Garlic crushed – 6 to 7 pods
Onion cut into small pieces – 1 medium size
Green chilies cut into small pieces – 2
Whole Mustard – 1 teaspoon
Vegetable Oil (or any oil for frying) – 2 tablespoon
Salt – to taste
Water – 2 cups
Method
Heat oil in a pan or wok.
When oil is hot add mustard, green chilies and garlic pods. After about 30 seconds add the onions and saute till onion is translucent.
Add pumpkin leaves and saute for two to three minutes. This step is very important and never miss this step.
Now add all vegetables and the dal. Mix everything well.
Add salt to taste. Add water and bring it to boil.
When the stew starts boiling reduce heat and simmer for about 15 to 20 minutes till the greens and vegetables are soft and tender.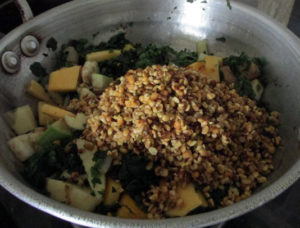 Your Pumpkin Leaf Stew is now ready. Adjust the amount of water if you want it more runny like a soup. Now all you got to do is to enjoy this delicious stew with your friends and family.