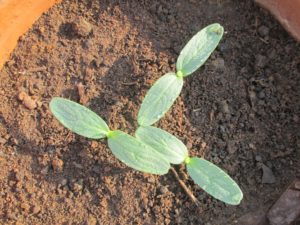 Summers are here and the temperature this year seems to be rising faster than ever before. In a couple of months time there would be early signs of rains, but till then we need to hydrate ourselves with a lot of fluids throughout the day to beat the summer heat. And there is no better way to do it than with cucumbers. Cucumber has the highest water content for any solid food and is a great snack by itself with a little salt and chilli powder. It is popularly served as a salad and also makes a great summer soup with curd and mint. To enjoy really fresh cucumbers you really have to grow them at home. In this post I'll guide you on How to grow cucumber at home successfully.
Quick Reference Table to Grow Cucumber in Containers
| Item | Value |
| --- | --- |
| Growing Temperature | 22 – 32 °C |
| Germination Temperature | 25-30 °C Ideal |
| Germination Time | 3-10 days |
| Soil pH | 5.5 to 6.8 |
| Sunlight Need | 6-8 hours per day (Sun loving Plant) |
| Preferred Planting Method | Direct sowing |
| Container size | 30-40 liter |
| Time to Harvest | 50-70 days from germination depending on variety |
| Harvest Period |  50-80days |
| Pollination | bee pollination or hand pollination |
| Typical Pests | beetle, aphids, spider mites |
| Typical Diseases | Bacterial wilt, leaf spot |
| Best season to grow in India | March to August |
Trellis arrangement for Cucumber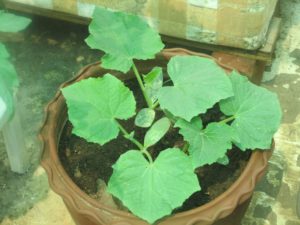 Cucumber is a creeper, and hence you need trellis arrangement for it to grow well. It can even be grown on ground without a trellis, but that way a lot of space is wasted. Moreover if you are growing cucumber on your terrace and not on ground then it is not safe to let them grow on the slab as concrete slab can get very hot during summers. A trellis for cucumber can simply be built by tying pieces of bamboo together like a mesh. We use fishing nets and plastic strings in our shade house structure
as trellis for cucumbers. You can be a little imaginative and build a trellis easily. But ensure you do it well in time. Cucumber plants tend to grow very fast after germination and you should be ready with your trellis by then.
Grow Cucumber at Home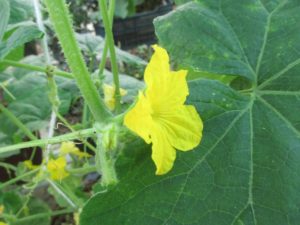 Cucumber plant has both male and female flowers. The female flowers must be pollinated with pollen from the male flower to bear fruit. To ensure you have a good mix of male and female flowers on your plant, it is advisable to grow at least 2-3 plants at the same time close to each other. You need a 25-30 liter container for a single cucumber plant. If you have 50-60 liter container you can grow 2-3 plants in them. If you are growing cucumber in separate plants, keep them close enough so that they can grow together on the trellis without having to compete for sunlight or air.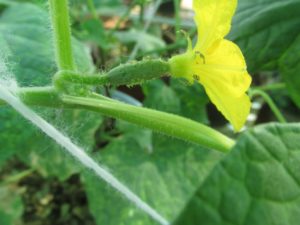 Pre soak cucumber seeds in Amrut Jal or plain water overnight before sowing them. Make approximately 5 mm depressions in the soil, place the seeds and cover them up with loose soil. Water gently so that the soil is not disturbed to expose the seed. Keep the soil moist all the time. In 5-10 days cucumber seed will germinate. When the seedlings have about 4 true leaves thin the plants to desired number depending on container size. If you are planting on open land or in bigger containers then keep at least one foot gap between two seedlings.
Cucumber Plant Management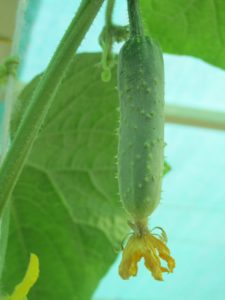 The water needs to cucumber plant is high. Once the plant is mature you may have to water it twice a day during peak summers. Hence be watchful for soil drying out fast during peak summers and water as needed. Mulch the soil well to reduce evaporation due to sunlight. When the plant starts flowering its time to amend the soil with good quality compost. This will help in the plant getting the required energy to bear fruits. If you find too many female flowers falling off the plant it is possible that they are not getting pollinated. Hand pollination helps when pollinator like bees and wasps are absent in your garden during flowering.
Cucumber beetle is the main insect that damages cucumber plants. Be on a look out for early signs of these insects. If you find damaged leaves and stems which have been eaten away leaving a net like structure it probably is a cucumber beetle attack. Check undersides of leaves and manually remove them before they spread to other parts of the plant. Wear gloves with a layer of petroleum jelly on it while removing the beetles. It will prevent the pests from falling off to other parts of the plant. Alternatively you can use a vacuum cleaner to remove the beetles.
Bhubaneswar tends to become really hot in the summers with day time temperature going beyond 40 °C often. This increases the rate of evaporation of moisture off the leaves to a great extent. Hence cucumber plants tend to do better under some shade here. The cucumber plants which grow inside our shade house outperform those grown outside the shade house.
Harvesting Cucumbers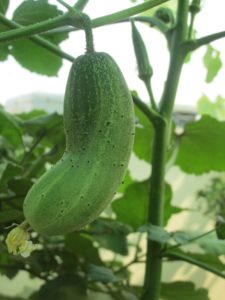 Cucumbers taste best when they have just matured or even a little earlier. Over mature cucumbers do not taste as great. Seeds of over mature cucumber are harder and bigger which makes it less enjoyable than cucumbers picked at the right time. When your cucumber has started turning yellow you know that you have missed the right time of picking it. The right time to harvest cucumbers is just before it tuns yellow. Keep looking for cucumbers which have stopped growing in size on the plant. When the fruit stops growing that is the time you should pick it up. Harvest cucumbers with a pair of scissors or hand sears. Never pull it off the plant as it will not easily detach from the plant.
Cucumbers are very easily camouflaged with the plant. Many a times we notice a cucumber only when it has turned yellow. So inspect your plant from  all angles to spot the cucumbers and enjoy them at their best tasting selves.