Climate change is real. Every year the summers are getting hotter and its not good news for your plants in your garden. There are many inexpensive ways you can take care of your plants to protect them from summer heat. But a shade house which needs some investment is the best bet. And this fact forced us to build a shade house for our terrace garden this year. We did not build it over our entire terrace because the shape and other factors of our terrace did not allow us to do so. We built it on one side of our garden covering approximately 300 sq ft. In this post I'll guide you on How to Build Shade House for your garden.
Things to Consider before you Build Shade House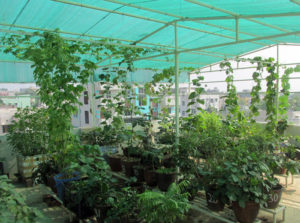 In certain part of summers and during monsoons our part of the world becomes very windy. And on the terrace the winds are much stronger than on the ground. So in such windy conditions we needed to have a strong structure to hold the shade house together. Which means the only material we could build our shade house structure with was steel. PVC pipes or bamboo structures would not withstand heavy wind condition.
In steel itself there were two options. Whether to go for pipes or to use angles. We stuck to pipes for two reasons. First, they are easy to manage and it is much easier to fasten the shade net to a pipe rather than angles. And secondly the aesthetics of a pipe is much better than that of angles.
We also wanted our structure to double up as trellis for climbers and creepers. So we decided to keep the minimum height of the structure at 6.5 ft.
Shade House Design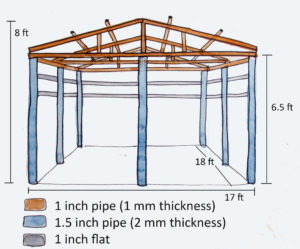 Here is the shade house design and the material that was used.
As shown in the picture 1.5 inch steel pipes were used as verticals to hold the structure while 1 inch pipes were used for everything else. Flats were used for trellis structure. In hind sight flats could have been replaced with 1 inch pipe from strength and aesthetics point of view. It would have cost only a little extra. Here is the list of materials we used to build the shade house.
1.5 inch steel pipe (2mm thickness) – 3 pieces of 20 ft length each
1 inch steel pipe (1 mm thickness) – 14 pieces of 18 ft length each
1 inch flat – 7 pieces of 18 ft each
75% shade net cloth – 400 sq ft
UV resistant plastic wire
Paint and Primer
How to Build Shade House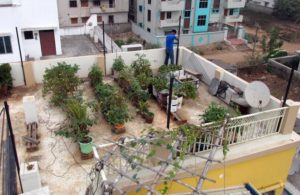 As a first step the outer vertical poles were cut to size and erected. They were supported on either the walls or the false pillar posts. A small square rod was first drilled into the wall at an angle of  20-30 degrees to the ground. This angle helps the rod stay put inside the wall. Then the 2 inch steel pipes were soldered to these rods.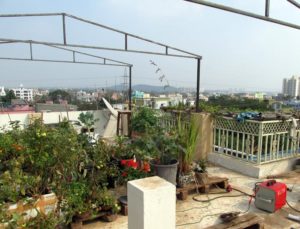 Next measurements were taken for the triangular trusses. And each of the three trusses were fabricated from the 1 inch steel pipe to measurement and marked. Then they were soldered on to the vertical posts.
The inner verticals were then erected and soldered onto the trusses. A few flats were also soldered on to the verticals for extra support and to create permanent trellis structure.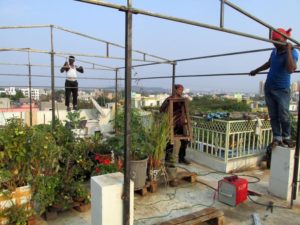 And finally the horizontal bars (1 inch pipe) were laid down on top and soldered to the top of the trusses. These connected the three trusses to each other.
After the structure was ready we cleaned up the pipes using sand paper and cloth and painted it for protection. After the paint was dry the shade cloth was laid on top of the structure and was fastened using fishing net wire. The fishing net wire we used were UV ray protected. So it would not easily disintegrate in heat and would hold on for much longer than normal plastic wires.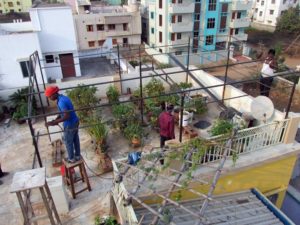 To give it extra protection from wind we tied coconut fiber ropes going across the shade cloth from one side to the other. This was necessary as our place is very windy. In case you don't get so much wind you do not really have to do this.
Total Cost of Building Shade House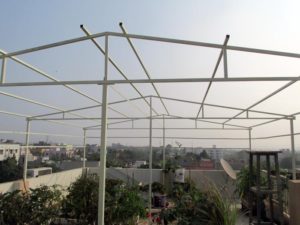 When we build the shade house the cost of steel was Rs 60/- per kg for the best brand of steel in town. Other lower quality steel was approximately Rs 50/- per kg. But we chose to go for the best quality steel and the total cost of the steel pipes was approximately Rs 8000/- including transport.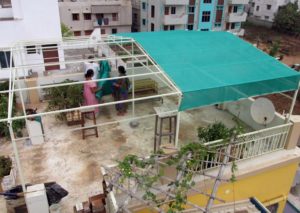 The shade net we used was a 75% sun block variety and the total expense to for about 400 sq ft of shade net was under Rs 1,000/-. The UV resistant fishing net wires cost another Rs 200/-. The paint and primer expenses for painting the pipes was approximately Rs 600/-. We did the painting job ourselves and hence not counting the wages for painting here.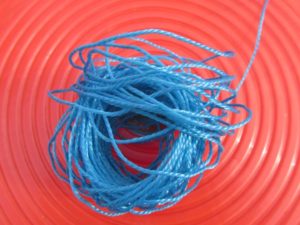 And lastly the fabrication charges for the shade house was Rs 5,000/-. So the shade house over 300 sq ft space cost us a little under Rs 15,000/-. Now to some of you this may seem a little high, but if the structure building cost is distributed over 20 years (the structure will last at least 20 years. The shade net may have to be changes every year) then it comes out to be under Rs 700/- (13,000/20) per year, which is really negligible if you look at the other advantages of the structure in additions to serving as a shade house.
Other Advantages of the Shade House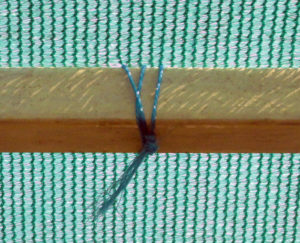 Now that you know How to Build Shade House, there are many other reasons for Why you should Build a Shade House. Though the shade house functions primarily to protect plants from heat, here are a few of the other advantages of the shade house structure. These are a few of the functions that we are using as of now. You can always get creative and use the structure in many more ways.
Coir Ropes used on top of shade cloth for guarding against strong winds

Water requirement of plants reduces leading to water conservation. Here are some more tips on conserving water.

Used as permanent trellis structures.
Climbers can be made to grow vertically making efficient use of space.
Pots could also be hung from the structure.
The shade house keeps the house cool too.
Protects plants from heavy rains as the shade net arrests most of the force of the rain drops.
Protects plants from monkeys. You can achieve this by covering the whole shade house with shade cloth or you can use fishing net to cover the sides of the shade house.