On my facebook page recently one of our regular readers asked me if there is any tutorial on growing spinach on my website. That is when I realized I have not made even a single post on any leafy vegetable till date. Leafy vegetables are the easiest and well suited for container gardens. And I was surprised that I have not written about them. Moreover spinach is a popular super food which I think everybody can and should grow at their home organically. So without any further ado here goes the Complete Guide to Growing Spinach at Home.
Quick Reference Table for Growing Spinach at Home in Containers
| Item | Value |
| --- | --- |
| Growing Temperature | 14 – 28 °C |
| Germination Temperature | 20-26 °C Ideal |
| Germination Time | 3-10 days |
| Soil pH | 5.5 to 7.0 |
| Sunlight Need | Can grow both in full light and in shade |
| Preferred Planting Method | Direct sowing or Transplanting depending on your need |
| Container size | Any container with at least 6 inch depth |
| Time to Harvest | 20-50 days from germination depending on your need |
| Harvest Period |  30-50 days |
| Pollination | Not Applicable |
| Typical Pests | cutworms, aphids, flea beetles |
| Typical Diseases | Damping off |
| Best season to grow in India | November to February. Under shade you can extend the growing season. |
Direct Sowing v/s Transplanting of Spinach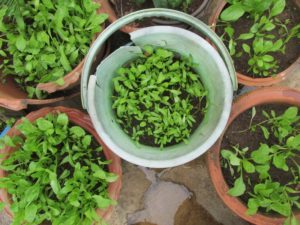 Spinach is a easy to grow leafy vegetable and you can either directly sow in your garden or grow them in a seed tray and transplant them. It all depends on your requirement. Here are a few pointers to choosing your germination method. These are just some thumb rules which will increase your success rate of growing spinach at home.
| Direct sowing | Transplanting |
| --- | --- |
| If you are going to harvest baby spinach leaves then they don't really need too much space to grow. You can just throw your seeds on your garden bed and you should be fine. | If you are going to harvest mature spinach leaves then each plant will need some breathing space. Hence its a good idea to transplant seedlings keeping the required distance between them. |
| If the temperature is not suitable for germination then its not a good idea to directly sow your seeds. | If the temperature is not ideal for germination you can start your seeds in seed trays under controlled conditions. |
| If you have enough seeds and do not mind thinning the seedlings, then you can sow seeds directly and later thin the seedlings as needed. |  If you have limited amount of seeds, then its better to start then in seed tray and later transplant them. This way you'll not waste your seeds. |
| If you are planting in full sunlight then direct sowing is fine. | If you are planting is partial sunlight or shaded area it is better to grow seedlings in seed trays. When seeds germinate its a good idea to expose them to full sun so that the seedlings grow healthy and do not become weak because of lack of sun. |
Its a good idea to soak your spinach seeds overnight before starting them. This will reduce the germination time by a few days. Place the soaked seeds on a paper towel to remove excess water, so that it does not stick to your fingers when you sow them.
If you are growing spinach in container then use a good potting mix. If you are growing it outdoors then make sure you have added good quality compost to the soil. Now drop the seeds on the soil surface and cover them with potting mix of approx 1/4 inch thickness. sprinkle water lightly so that the top layer is not disturbed. Sometime the top layer of potting mix may get too disturbed and seeds may get exposed. Hence be careful while sprinkling water. Keep the soil moist (not wet) all the time to aid faster germination.
If you are starting your seeds in trays, follow the same process as above. Use 2-3 seeds for each cup of the seed tray. In case the temperate is very low then it will be good to keep the seed tray inside a paper box (shoe box works well) and place it in a warm area. When your seeds are of good quality and the temperature and moisture is ideal seeds should germinate within 3-6 days. When seeds have germinated, transfer the tray to a place where the seedlings can get at least 4-6 hours of sunlight.
Growing Spinach at Home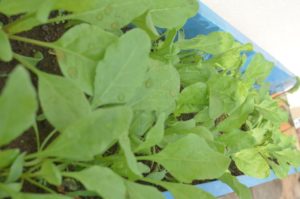 When seedlings have two to four true leaves they are ready to be thinned or transplanted. When you are transplanting spinach seedlings from seed trays, keep a distance of approximately six inches between two sets of seedlings. You do not really have to thin the seedlings in the seed tray to just one. You can have 2-3 seedlings at one place. After transplanting water the soil lightly. In case you have directly sown the seeds on soil then thin the seedlings so that there is approximately six inch distance between each set of seedlings.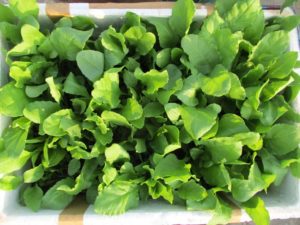 When it comes to watering, never over water your spinach at any point of time. Watering once in two days when the day time temperature is below 25 degrees works fine. Mulch your soil as soon as you transplant/thin your seedlings. When the leaves become bigger then it will be difficult to mulch. But spinach itself will work as a ground cover. Hence, in case you missed mulching no need to fret over it. 🙂
Spinach does not really need any special care. But using a soil conditioner like Amrut Jal once every ten to fifteen days will keep the soil healthy and happy. This will ensure that probability of any pest or disease attack is minimized. Using good quality seeds and keeping the soil healthy are the only things you really need to do for disease and pest management when you are growing spinach at home. It is just that simple. But in case you still get some pests just remove them manually and move your plant to a place where it can get full sunlight.
Harvesting Spinach
When you are harvesting spinach, just harvest the bigger leaves. Use a pair of scissors to cut the leaf off from the main plant. Do not pull with your fingers as it may result in uprooting of the plant. It does take a little more time when you harvesting spinach with a pair of scissors, but it protects the plant from any kind of root shock. Once you have harvested the mature leaves the smaller leaves will start growing fast and new leaves will also appear.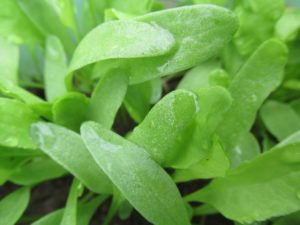 One very important thing to note is that you must harvest your spinach only when you are going to eat them. Spinach is a super food packed with loads of nutrients. But the leaves tend to lose the nutrients fast after being harvested. A few varieties of spinach lose more than 90% of their nutrients in 24 hours. Hence if you really want to enjoy this super food with all its nutrients intact then harvest them when you are going to cook with them.
---
Spinach is a easy to grow green leafy vegetable which is rich in nutrients. It does not really need much space and care to grow. Spinach can grow even in shade. It can even be used as a cover crop for other plants like egg plant or tomatoes. This way you end up reusing garden space. I know I have taken really long time to 'plant' this post in my blog 'garden'. But I'll surely be surprised if you don't start growing this super food in your garden immediately.